Podcast: Play in new window | Download (Duration: 49:40 — 34.8MB)
Subscribe: iTunes | Android | RSS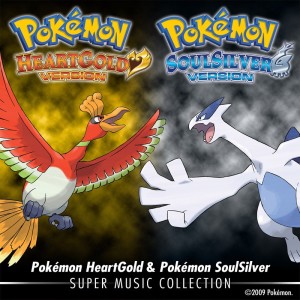 Pokémon HeartGold and SoulSilver Super Music Collection is now available on iTunes. This is the third Pokémon soundtrack that has been released within the past year. The HeartGold and SoulSilver Super Music Collection contains 270 tracks from the HeartGold and SoulSilver video games. The entire album costs $9.99 USD on iTunes, but individual tracks can be purchased for 99 cents each. Don't buy them individually, you'll waste an extra $260 that way.
I still have not yet purchased the Pokémon FireRed and LeafGreen Super Music Collection that I talked about in episode 66 of the podcast, nor the Pokémon X and Y Super Music Collection, but I do plan on buying all three Super Music Collection albums soon. These albums are a great complement to each other very well and bring back a huge wave of nostalgia when listening to some of the songs. I'll be honest, my favorite song out of the whole album is probably Pokégear Radio: Pokémon Lullaby. There was nothing like walking through the tall grass and listening to that song. It not only helped to repel wild Pokémon, but it was absolutely calming.
Want to purchase the Pokémon HeartGold and SoulSilver Super Music Collection on iTunes?
Here's a link to get to the iTunes page – Pokémon HeartGold and SoulSilver Super Music Collection on iTunes.
This is not an affiliate link, so I won't earn any money if you click this link. I just thought I'd make things easier for you by providing a quick link to iTunes.
Question of the Episode
Do you think the Pokémon Company is grasping at straws to bring in older fans back? Or do you think that the Pokémon Company is trying to bring in the children that some older fans now have?
Pokémon of the Episode: #681 Aegislash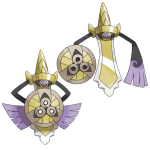 Aegislash is the Royal Sword Pokémon. It has a signature Ability called Change Stance. It stands at 5'07" (1.7m) tall and weighs 116.8 pounds (53kg). Aegeislash is Steel- and Ghost-type.
Honedge evolves into Doublade at level 35, and then evolves into Aegislash when introduced to a Dusk Stone.
Aegislash's Ability allows it to switch its offensive and defensive stats. When using an offensive move, it will change to its Blade Forme and remain that way until it is switched out or uses its signature move Kings Shield. When it uses the move Kings Shield, it reverts back to its defensive Shield Forme.
Ask questions or share feedback
Connect with Pokedex Radio
Please support the website