Podcast: Play in new window | Download (Duration: 1:23:41 — 58.2MB)
Subscribe: iTunes | Android | RSS
Pokedex Radio live, Broadcasters For A Cure – Alzheimer's Society of Canada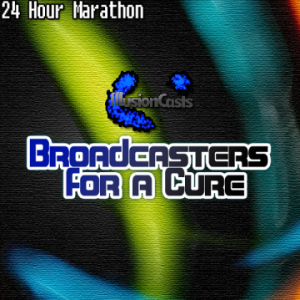 This is a special two-hour live broadcast of the Pokedex Radio podcast. The recording is from Saturday, March 15, 2014 from IllusionCasts' 24-hour live marathon called Broadcasters For A Cure to raise money for the Alzheimer's Society of Canada. I was invited by IllusDark8, aka Mateo Vega, of IllusionCasts to participate in the broadcast, and I happily accepted.
The goal for the live broadcast was to raise $500 to donate to the Alzheimer's Society of Canada. Through everyone's valiant efforts, we were able to raise $324. The goal wasn't reached, but it was something to donate for this cause.
Some special guests during the 24-hour event were YouTube's very own Tamashii Hiroka and SheepNDane, IllusionCasts' IllusDark8, and Dr. Scottnik from Sonic Radio.
Ask questions or share feedback
Connect with Pokedex Radio
Please support the website