Podcast: Play in new window | Download (Duration: 56:49 — 39.7MB)
Subscribe: iTunes | Android | RSS
After playing through some of Pokémon X and Y so far, I feel that the games are dropping hints at a possible Ruby and Sapphire remake for some time in the future.
7 reasons why I think there might be a Pokémon Ruby and Sapphire remake
I truly feel that with all the hints given to us in Pokémon X and Y, we should be seeing a Ruby and Sapphire remake in the near future.
Torchic distribution even via Wi-Fi
Mention by the old man in the Parfum Palace of the hot spring from Lavaridge Town
Mention by the old couple (lady) In the Parfum Palace about the Oceanic Museum from from Slateport City
Mention by the old couple (man) in the Parfum Palace about different wedding anniversary jewels – Ruby is the 40th anniversary jewel and Sapphire is the 45th anniversary jewel
Mention by the backpacker in the Parfum Palace that he is from the Hoenn region, and that we "will see it in due time"
Little girl that mentions her uncle is from the Hoenn region
Seeing MANY Generation 3 Pokémon throughout the region
Pokémon Bank arriving to Nintendo eShop on December 27 for $4.99 per year
Finally! It has been confirmed now that the Pokémon Bank will be available for download from the Nintendo eShop starting December 27, 2013. The Pokémon Bank is bundled with the Poké Transporter, which will allow you to transfer your Pokémon from Black, White, Black 2 and White 2 into the Bank so you can then import them into your Pokémon X and Y games. The Pokémon Bank holds up to 3000 Pokémon. The Pokémon Bank will be a subscription service for $4.99 USD per year. If you download Pokémon Bank before January 31, 2014, you will have a free 30-day trial before having to subscribe to the service.
Lumiose City Save Bug
There have been many people, videos and sites around the Internet, including Escapist Magazine, that mention an interesting save bug in Pokémon X and Y when you save in the outskirts (the outer streets) of Lumiose City. When you save and try to start playing again, you will not be able to do anything in your game (move around, bring up your menu, etc.). This bug is affecting both physical and digital copies of Pokémon X and Y. If this happens to you, you will have to restart your game. I don't mean just power-cycle your 2DS or 3DS, I mean completely delete your save data and restart your game.
Pokémon of the Episode: #326 Grumpig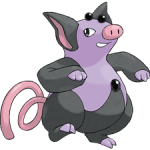 Grumpig is the Manipulate Pokémon. It can have the Abilities Thick Fat, Own Tempo, or the Hidden Ability Gluttony. It stands at 2'11" (0.9m) tall and weighs 157.6 pounds (71.5kg). Grumpig is Phychic-type.
Spoink evolves into Grumpig at level 32.
Links:
Ask questions or share feedback
Connect with Pokedex Radio
Please support the website