Podcast: Play in new window | Download (Duration: 1:24:41 — 39.5MB)
Subscribe: iTunes | Android | RSS
Will Nintendo's innovations with the Nintendo Wii U be its own downfall, or will it be able to push through to succeed and be better than we could have ever expected?


McDonald's Happy Meals to Include Pokémon Toy and TCG Card
Starting May 23, 2014, McDonald's restaurants in the United States will be including a Pokémon "battle launcher" toy and one of 12 Pokémon trading cards. The "battle launcher" toys include Pikachu, Xerneas, Yveltal and Charizard, among others. The trading cards are reprints which will include Pikachu from the XY Expansion Set and 11 cards from the Kalos Starter Set. The promotion will end on June 12, 2014.
Game Freak Celebrates its 25th Anniversary!
On April 26th, GAME FREAK inc. has celebrated its 25th anniversary! Thank you for always supporting us! pic.twitter.com/FrlWnWCbcq

— 増田順一@GAME FREAK inc. (@Junichi_Masuda) April 26, 2014
Steven Reich of PokéPress interviews Ralph Schuckett (part 2)
This is the second half of an interview by PokéPress' Steven Reich with composer Ralph Schuckett. The first half of the interview can be heard in episode 74 of Pokédex Radio. During this portion of the interview, Schuckett discusses his involvement with Pokémon: The Movie 2000 and his endeavors in teaching music.
These are the websites that Schuckett mentions in the interview:
Game Theory – Nintendo Wii U is the New Virtual Boy
Game Theory – Are Gamers Killing Video Games?
Game Theory – Flappy Bird, PewDiePie, and Pasta Sauce
Question of the Episode
What do you think is the future of Nintendo?
Pokémon of the Episode: #169 Crobat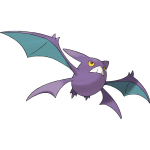 Crobat is the Bat Pokémon. It can have the Abilities Inner Focus or the Hidden Ability Infiltrator. It stands at 5'11" (1.8m) tall and weighs 165.3 pounds (75kg). Crobat is Poison- and Flying-type.
Zubat evolves into Golbat at level 22, then evolves into Crobat when it has a high level of happiness.
Ask questions or share feedback
Connect with Pokedex Radio
Please support the website